Perpetual Care
Woodlawn Cemetery has been built on a solid foundation of financial stability. Presently 25% of lot and niche sales is deposited into a Perpetual Care Fund that was established in 1911.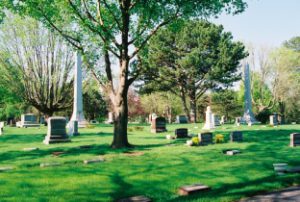 The principal of the Fund cannot be withdrawn. All income is used by Woodlawn for maintenance. This Perpetual Care Fund is sufficient to maintain the property and to preserve the natural beauty of Woodlawn Cemetery.
Columbariums
There has been a growing trend toward cremation and the use of columbarium niches. Our columbariums are designed to hold the cremated remains of human beings in one of 96 individual niches. All niches are the same size and allow for a single urn, two single urns or one companion urn.
The cost of a niche includes opening and closing of the niche and the incising of names and dates.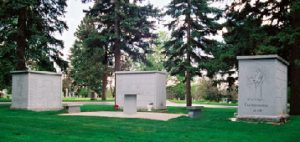 Cremation is not disposition. It is an appropriate method of memorialization. Human cremains are treated with respect and dignity and put in a dedicated place for perpetual care.
Families find cremation be simply one part of the process leading to long term remembrance and respect.
Flower Fund
The Woodlawn Cemetery Flower Fund allows a family to deposit funds which are then invested and the interest used to provide the planting of an urn or urns in the Spring and a wreath at Christmas
time. This is a one-time charge. This service gives the family members the peace of mind that there will always be something at the grave site of their loved ones.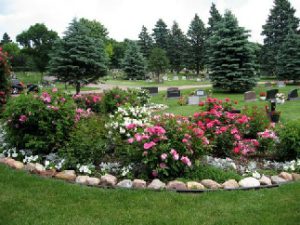 Please contact the office for prices and regulations.
Monument Sales
Woodlawn Cemetery Association and its Board of Directors are pleased to announce the association of the Rausch Bros. Monument Co. and its representative, Brittani Frederick, as the recommended retailer of Monuments and Markers for Woodlawn Cemetery lot owners. Any financial compensation realized by Woodlawn Cemetery in the sale of Monuments and Markers will go directly into the Perpetual Care Fund.

If you are thinking of purchasing a cemetery memorial to be placed on your Woodlawn Cemetery property now or in the future, feel free to contact the cemetery office to schedule an appointment with Mrs. Frederick. You may meet with her either in the cemetery office or, if you prefer, she would be happy to come to your home to discuss your cemetery memorial needs.